One Love Birthstone Necklace
$36
---
Handmade in the US -
Proudly handmade in-house by skilled jewelers who love their jobs, not in overseas sweatshops.
Carbon Neutral -
We offset 100% of the carbon emissions generated to make and ship this product.
Materials Made to Last -
Made with high quality materials so your jewelry can stay on your body and out of the trash.
---
Product Details

Chain thickness: 1.1mm

Gem sizes: 2.5mm to 3.5mm.

Diamond size: 2mm

Necklace 

length is available in 4 adjustable sizes.

Safe for sensitive skin.

Available in 

14k Gold Filled or Sterling Silver

.
How to Order:
Click the Build You Necklace button.
Select your chain, either 14K Gold Filled or Sterling Silver.
Click the Next button.
Select your charms by clicking the Add button.
You can enter how many of each charm you want in the quantity box.

Add as many charms as you'd like! One for daughters, sons, loved ones, etc.
Click the Add to Cart button once you're done picking your charms.
Proceed to checkout, or keep browsing the rest of the site!
Plus...
Some months have more than one stone, so pick the one you like more. Each charm comes with a card inscribed with the meaning of the stone, and everything comes together in a beautiful jewelry pouch, ready for gift giving!


Sustainably and Ethically Handmade in the USA
From the first sketch to the final touch, every piece of KOZAKH Jewelry is proudly designed and handmade in the US. Our materials are ethically sourced from Fair Trade suppliers so that you can love how your jewelry looks, and how it's made. Once we get your order, one of our skilled artisans will begin crafting your new jewelry by hand, making sure it meets all of our quality standards. It will then be packaged in a cute reusable felt pouch (perfect for gift giving), and begin its journey to you!
We believe that every business has the responsibility to take care of our neighborhoods, communities, and our planet. Let's be real - wearing something you know hurt the environment or exploited low wage workers just doesn't feel good, and it's not something our global community can continue doing if we want to keep life on our planet thriving. That's why we have made sustainable practices an essential part of our day to day here at KOZAKH. You can feel good knowing the jewelry you put on you body is made sustainably by our use of carbon offsets, zero waste manufacturing, recycling, and much more. 
Read all about our sustainable practices here.
We believe jewelry should be made to last forever, and that you should be able to wear your favorite pieces everyday without worrying about them getting damaged. That's why we choose materials like 14K Gold Filled and Sterling Silver that are tarnish resistant and won't lose their color. We back this up with a Lifetime Warranty that covers almost everything. If something happens, all you need to do is contact us, and ship your jewelry to our studio. In most cases we'll fix or replace it for free. So go live your best life, and wear your jewelry the whole time!
Things we don't cover include lost or stolen jewelry, and jewelry that has been clearly mishandled. For example, if you lose your necklace in the jacuzzi and find it in the filter a month later and it's not looking 100% (ahem... true story). But we know how sucky that feels, so even if something like that happens, just let us know. Our solutions to these kinds of problems usually surprise our customers (in a good way)!
*Please note that the few styles of gold bonded jewelry we offer are not covered by our lifetime warranty.
Thank you so much for wearing KOZAKH Jewelry!
14k Gold Filled
Gold Filled is the best alternative to Fine Gold. It is essentially a thick layer of gold "filled" with another metal, like brass or copper. It has a layer of gold that is 50-100x thicker than any other more commonly used metals, like gold plated and vermeil. Additionally, the layer of gold and the base metal are pressure bonded, so the gold layer is very durable and will not come off for decades.
Recommended reading if you want to know more about it: The Complete Guide to Gold Jewelry.
Sterling Silver
Sterling Silver consists of 92.5 percent pure silver and 7.5 percent copper, and is the standard metal used to make fine silver jewelry. We love silver jewelry, and we love layering it with our gold jewelry! All silver jewelry from KOZAKH is made using .925 Italian Sterling Silver.
14K Gold
14K Gold is the standard for Fine Jewelry. It is durable, lightweight, and has a gorgeous soft yellow color that makes it perfect for all types of jewelry, including wedding rings. 14K Gold is a highly sought after metal for jewelry lovers because it will last forever when cared for properly. If you are looking for excellent quality and wearability that you can keep in your collection forever, 14K Gold is the best choice for you.
14K White Gold
14K White Gold shares all of the same benefits of 14K Yellow Gold. The only difference is the color, which is a light, glossy, silvery/white. This is achieved by mixing Rhodium with the Gold when creating the alloy, and then applying an additional layer of Rhodium plating. Rhodium is one of the rarest and most durable metals on earth, making it perfect for fine jewelry. 
Our Gemstones and Pearls   
All KOZAKH gemstones and pearls are real, and ethically sourced from fair trade suppliers around the globe. Nothing else in the jewelry world comes close to matching the beauty of authentic semi-precious and precious gemstones, which is why they are the main feature on many of our pieces. Find you favorite gemstone on one of our pieces today!
Sustainability has always been at the core of our ethos. Companies today have a huge responsibility to be proactive in reducing carbon and slowing climate change. We don't just believe it's possible to create amazing products without harming the environment, we believe it's essential. That's why this year we are starting the KOZAKH Forest Project, which aims to plant 1 or more trees for every piece of jewelry sold!
In addition to continuing to produce our products with low waste and low carbon emissions, and offsetting our carbon footprint using carbon credits, we will also be employing the help of Mother Nature's natural defense against CO2, a.k.a trees, to help combat climate change. With your help, we aim to plant approximately 100,000 trees in 2022!
Our trees are being planted in several locations around the world, in areas that have been greatly affected by logging, mining, deforestation, over cultivation, and other types of degradation.  The forests will not only produce trees that will help rebalance the ecosystem, they will also produce jobs for local workers, as well as better water quality for surrounding communities. We hope you'll join us in an effort to combat climate change and keep the world healthy. We love living here, and we know you do too!
Check out our progress here:
Domestic Shipping
KOZAKH's default shipping method is the United States Postal Service. Everything on the site is made to order, please allow 2 to 3 business day for us to make your jewels.
Methods and transit times:

| | | |
| --- | --- | --- |
| TYPE | COST | TIME |
| Standard Shipping | FREE | 3-5 business days |
| 2 Day Shipping | FREE l Orders +$200 | 2-3 business days |

Please Note: These delivery timeframes do not include the production time and only cover time in transit. If your order is time sensitive, please email us so we can further assist in expediting your order if possible.
International Shipping
All international orders are shipped via DHL. Shipping rates are calculated on the basis of destination and weight of package. All additional taxes, customs, and import duties are the responsibility of the customer. 
Customers have the option to pay Taxes & Duties before hand or upon arrival, but some countries do require it before hand.
Upon arrival, if you do not pay DHL the Taxes & Duties due by your countries customs office your order will be forfeited and not refunded. Please send us an email with any questions regarding International shipping charges you're unsure about. 
Returns & Refunds
*Gift Return Policy - All gifted items are eligible for exchange or a store gift card equal to the amount of the return item for up 30 days after purchase.
Regular Return Policy - KOZAKH offers simple, hassle-free returns within 7 days of receiving your product.
Have more questions? Please contact us by email – customercare@kozakh.com
---
#wearkozakh
Shop the Look
Customer Reviews
Write a Review
Ask a Question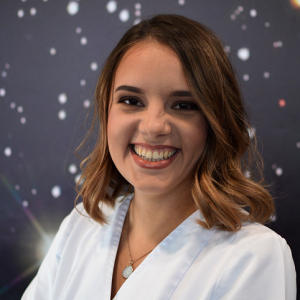 AP
07/21/2021
Ajla P.

Croatia
Lovely
So gentle and lovely. Love it!
07/13/2021
Manuela C.

Guatemala
Great gift!
I gave this as a gift for my mom and she loved it! I gave her a charm for every month of my siblings birthdays
04/16/2021
Erica

United States
A stunning piece
Even more gorgeous in real life! I got an emerald and an opal charm to represent the birthdays of my mother and sister and it's so well crated and dainty, you can see the quality just by looking at it. SO happy with my purchase
10/26/2020
Allesha B.

United States
Beautiful!
I love how delicate and dainty this necklace is. The quality of the stones and chain are so amazing I'm in love
10/13/2020
Elyse S.

United States
Sentimental gift
This was a great gift for my mom who's becoming a grandmother and can continue to add this necklace.